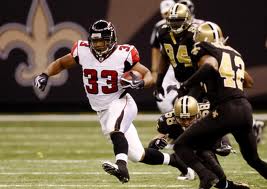 The Atlanta Falcons are 10-1 on the Season. The only loss to their record and blemish on the card came on the road in Week 10 to the New Orleans Saints. The Falcons had their opportunities in the one too, scoring just three points on two trips inside the five-yard line.
The result was a 31-27 defeat. In Week 13 on Thursday night, Atlanta will have the chance to exact some revenge on the Saints, who come to the Georgia Dome reeling from a loss last week that severely damaged their playoff chances.
New Orleans appeared to be on a roll following that win over Atlanta, and had pulled to 5-5 on the season. But a slip up last week at home to San Francisco has painted New Orleans into a corner. With a game against Atlanta this week, and the New York Giants the next, the Saints appear to be in trouble at 5-6 on the season for the playoffs.
The Falcons have some extra motivation as well this week. If they can stay undefeated at home and get the win, they would possibly clinch the NFC South division if the Tampa Bay Buccaneers lose this weekend. Atlanta beat Tampa Bay 24-23 on the road last week, and pulled to a four-game lead in the division. The Falcons would be the first team to clinch the division in 2012 if they were able to do it this week.
To do so though, Atlanta will have to defend the pass much better against the Saints. Drew Brees was able to spread the ball around the field and rack up 31 points. But New Orleans is a tough team at home.
The Saints defense is what stifled Matt Ryan and the Falcons on two fourth quarter possessions deep in the redzone. Red zone efficiency will likely be another very important factor in deciding which teams comes away with the win.
New Orleans has no shot at the playoffs if they don't win this one, so it will be interesting to see how they respond after the loss to the 49ers.