Jump To: Schedule Grid - Matchups/Scores
It comes up fast, and by the time the Week 4 games of the 2013 NFL regular season are over, all but two teams will have already played one quarter of their games. Green Bay and Carolina each have a Bye in Week 4, but the other 30 teams around the league will be in action.
Week 4 in the NFL begins on Thursday, September 26th with an NFC West showdown between St. Louis and San Francisco. As we go into Sunday, some Sunday 1pm games to pay attention to include Chicago taking on Detroit, Pittsburgh visiting Minnesota, and Baltimore taking on Buffalo. Philadelphia at Denver and Dallas at San Diego are the notable 4pm games.
The Sunday Night Football and Monday Night Football games for Week 4 are looking good as well, with more info on those down below.
Other Week 4 NFL Games
Thursday Night Football - Sunday Night Football - Monday Night Football
2013 NFL Regular-Season Schedule: Week 4
* game in London
Week 4 byes: Green Bay Packers + Carolina Panthers
Thursday Night Football - Week 4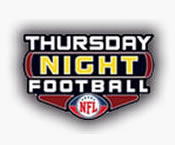 San Francisco starts their season out playing three playoff teams from last year, with the first one that didn't coming in Week 4 against St. Louis. These two teams are obviously very familiar with each other. The 49ers will try to continue their reign over the NFC West, while the Rams are looking to rebuild and challenge for the postseason after having some down years.
St. Louis had a successful draft and got some much-needed help. It will be interesting to see how that productivity has translated onto the field at this point in the year against San Francisco.
The 49ers are expected to win the NFC West division again, with their biggest challenge coming from Seattle, and not St. Louis... though the Rams were unbeaten in two games against this vaunted 49ers team in 2012 with one win coming against them after Colin Kaepernick had taken the full-time QB spot.
Sunday Night Football - Week 4

Two preseason Super Bowl contenders will take the field on Sunday Night in Week 4 from the Georgia Dome in Atlanta, as the Falcons will host the New England Patriots. Both teams came one win away from reaching the Super Bowl last season, as they both lost in their respective conference championship games.
The Atlanta Falcons (3-0 at this point in 2012) will continue to try to take that step forward to the Super Bowl, behind quarterback Matt Ryan and an explosive offense. The addition of running back Steven Jackson should help balance the offensive attack. And speaking of offensive attacks, the loss of Wes Welker will be a storyline to follow with New England this year. Welker is now a member of the Denver Broncos, though we expect Tom Brady to be just fine.
This could be one of the most looked-forward to games in the first part of the 2013 season.

Monday Night Football - Week 4

Both the New Orleans Saints and the Miami Dolphins missed out on the postseason in 2012-13, but will try to bounce back. The Saints host the Dolphins in the Week 4 edition of Monday Night Football, which should be a good one. Obviously with Drew Brees, we can expect to see the ball thrown around all over the Louisiana Superdome. But Dolphins quarterback Ryan Tannehill will be in his second season and should be getting better. The addition of receiver Mike Wallace should help that pass attack as well.
New Orleans is always a great home team, so Miami will have to do something out of the ordinary to get a win in this one. We'll see how this one plays out on ESPN starting at 8:30pm ET on Monday, September 30th.