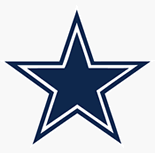 The 2012 Cowboys schedule presents many challenges both early and late in the year. And, if Dallas wants to overcome their stigmata of losing big games late in the season, they are going to need to learn how to close, or get a big enough lead in the division to where it won't matter.
The good news is, after a schedule front loaded with away games, the Cowboys have five home games between Weeks 11-16, two of which are divisional matchups with the Eagles and Redskins (whom meet again in Week 17). If they collapse again, they will have to do it in front of their home crowd.
Dallas Cowboys 2013-2014 Team Schedule
WK
Date
Opponent
Time (ET)
Cable
HOF
Sunday, August 4th
vs. Miami Dolphins
8:00PM
P-1
Friday, August 9th
@ Oakland Raiders
10:00PM
P-2
Saturday, August 17th
@ Arizona Cardinals
4:30PM
P-3
Saturday, August 24th
vs. Cincinnati Bengals
8:00PM
P-4
Thursday, August 29th
vs. Houston Texans
8:00PM
WK
Date
Opponent
Time (ET)
Cable
1
Sunday, September 8th
vs. New York Giants
8:30PM
2
Sunday, September 15th
@ Kansas City Chiefs
1:00PM
3
Sunday, September 22nd
vs. St. Louis Rams
1:00PM
4
Sunday, September 29nd
@ San Diego Chargers
4:25PM
5
Sunday, October 6th
vs. Denver Broncos
4:25PM
6
Sunday, October 13th
vs. Washington Redskins
8:30PM
7
Sunday, October 20th
@ Philadelphia Eagles
1:00PM
8
Sunday, October 27th
@ Detroit Lions
1:00PM
9
Sunday, November 3rd
vs. Minnesota Vikings
1:00PM
10
Sunday, November 10th
@ New Orleans Saints
1:00PM
11
Bye Week
12
Sunday, November 24th
@ New York Giants
4:25PM
13
Thursday, November 28th
vs. Oakland Raiders
4:30PM
14
Monday, December 9th
@ Chicago Bears
8:30PM
15
Sunday, December 15th
vs. Green Bay Packers
4:25PM
16
Sunday, December 22nd
@ Washington Redskins
1:00PM
17
Sunday, December 29th
vs. Philadelphia Eagles
1:00PM
The Cowboys have an excellent opportunity to start the year out at least 2-2 with games against the New York Giants, Seattle Seahawks, Tampa Bay Buccaneers and Chicago Bears before a bye in Week 5. Their games against the Giants and Bears will be featured in Primetime.
The Cowboys kick off the season on Wednesday, Sept. 5th against New York as the Giants ceremonially unveil their Super Bowl banner. It's a great opportunity to get revenge in front of the entire NFL audience. The whole reason New York even got the opportunity for that banner was in part by Dallas. With the NFC's final playoff spot on the line on the final day, the Giants beat the Cowboys.
The Cowboys won't be getting any gifts from Santa Claus late on the 2012 NFL season schedule. December is filled with several tough opponents once again, with meetings against the Cincinnati Bengals, Pittsburgh Steelers and New Orleans Saints all in a row. If Dallas can get through it, a meeting with the Washington Redskins should be an easy end to the regular season but those regular season finales have been a doozy for Dallas in the past, especially when finishing up against divisonal opponents.
Dallas Cowboys Division Schedule

The NFC East is arguably the toughest division in the conference with the Philadelphia Eagles the early favorites and the Giants returning as NFL champs. The draft of Robert Griffin III even makes the Washington Redskins and intriguing team early on. After starting the year with New York, though, Dallas won't have any rivals on its schedule until the last week of October, where it will play the Giants at home. The bulk of the Cowboys' conference schedule will be late in the year.
Dallas Cowboys In Conference Schedule

Dallas' non-divisional conference schedule looks to be pretty light with match-ups against Seattle and Tampa Bay early on, along with home games against the Carolina Panthers and Atlanta Falcons after the bye week. The only real landmine on the road looks to be New Orleans, which host the Cowboys two days before Christmas at 1 p.m. In those four games, though, they will see four great quarterbacks. Good thing Dallas traded up to take Morris Claiborne high in the first round to solidify the defensive backfield.
Dallas Cowboys Out Of Conference Schedule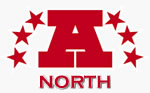 The NFL's schedule makers couldn't have chosen a more difficult AFC schedule for the Cowboys, giving them a palate of AFC North teams. They get an away game with the Baltimore Ravens right after their bye week, then host the Cleveland Browns in Week 11. The toughest stretch looks to be at the end of the year where Dallas plays the Bengals and Steelers on back-to-back weeks. The Cowboys could certainly split those four games, and playing well against Baltimore and Pittsburgh could improve their odds for the Super Bowl if they make the playoffs.
2013 Dallas Cowboys Team Info