Jump To: Carolina Panthers Team Info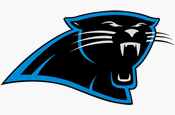 Coming off a 12-4 campaign that saw them win the NFC South + make the postseason, the Carolina Panthers will be tested throughout the 2015 NFL schedule. Beyond being in a division with the New Orleans Saints and Atlanta Falcons, the NFC South matches up with the AFC + NFC North divisions which means several more games against some of the NFL's best offensive + defensive teams. Toss in games versus the Seattle Seahawks and the Philadelphia Eagles and it's clear to see this year will be full of trials.
All 16 of the Carolina Panthers 2015 games are shown below in addition to the four games to be played as part of their exhibition schedule. Carolina will be in the national spotlight in Week 3 at home against the Steelers (SNF), Week 9 at home versus the Saints (TNF), as well as a Monday Night Football tilt in Philadelphia for Week 10.
2015 Panthers Preseason Schedule
1 Fri, Aug 14 @Buffalo 7:00 PM
2 Sat, Aug 22 vsMiami 7:00 PM
3 Fri, Aug 28 vsNew England 7:30 PM
4 Thu, Sep 3 @Pittsburgh 7:30 PM
2015 Panthers Regular Season Schedule
WK DATE OPPONENT TIME (ET)

1 Sun, Sep 13 @Jacksonville 1:00 PM FOX
2 Sun, Sep 20 vsHouston 1:00 PM CBS
3 Sun, Sep 27 vsNew Orleans 1:00 PM FOX
4 Sun, Oct 4 @Tampa Bay 1:00 PM FOX
5 BYE WEEK
6 Sun, Oct 18 @Seattle 4:05 PM FOX
7 Sun, Oct 25 vsPhiladelphia 8:30 PM NBC
8 Mon, Nov 2 vsIndianapolis 8:30 PM ESPN/WatchESPN
9 Sun, Nov 8 vsGreen Bay 1:00 PM FOX
10 Sun, Nov 15 @Tennessee 1:00 PM FOX
11 Sun, Nov 22 vsWashington 1:00 PM FOX
12 Thu, Nov 26 @Dallas 4:30 PM CBS
13 Sun, Dec 6 @New Orleans 1:00 PM FOX
14 Sun, Dec 13 vsAtlanta 1:00 PM FOX
15 Sun, Dec 20 @New York 1:00 PM FOX
16 Sun, Dec 27 @Atlanta 1:00 PM FOX
17 Sun, Jan 3 vsTampa Bay 1:00 PM FOX
2015 Carolina Panthers Team Info