Jump To: Odds Explained | Best Sites For Online Betting | NFL Betting Tools
Betting sports in this day and age is extremely popular, and it doesn't get any bigger in a sport than wagering on the NFL. In the United States, the NFL and football is king. It's the most popular sport in the country, by far. And betting on the NFL is just a popular.
Oddsmakers and online sportsbooks look forward to every NFL season, forming new betting lines, and a variety of wagers throughout the course of the season. We get into all of the detail around betting on the NFL below on this page, providing everything you want to know about betting on NFL games and more.
Types Of NFL Betting Odds Explained
As we said briefly before, there are a number of different types of wagers when it comes to NFL betting odds. Whether it's a futures wager, betting against the spread, or wagering on a player proposition betting lines as examples, there are certainly plenty of options.
Straight Wagers - A straight wager is one of the types of betting odds probably most often thought of when it comes to betting on the NFL. Oddsmakers explicitly form betting odds for individual games, installing a point spread. When betting on a game on the point spread, a bettor picks the team that they believe will cover the betting line. A bet is placed on either the favorite giving points, or the underdog getting points. The bet is won by picking the team which covered the point spread. But betting against the spread is not the only type of straight wager. There is also betting the moneyline. Here, a bet is placed on the team to win the game straight up without a point spread involved. It's definitely easier to pick, but the payouts are often not what they are when it comes to betting against the spread. An over/under point total is another type of straight wager as well. An NFL game is installed with a combined point total for the two teams, for which a bet is placed on the over or under total of the number.
Team & Player Props - There are two types of proposition betting lines when it comes to betting on the NFL. They are player props and team props. These betting lines are typically performance based, and for the most part are unrelated to the direct outcome of a game. For example, a player prop betting line for a game might be formed around a running back's over/under rush yards total, or a quarterback's touchdown total. Team prop betting odds are similar. Betting on which team will score first, or which teams will have the first turnover in a game might be examples of a team prop line for an individual game.
NFL Futures - Super Bowl betting odds are the most common type of futures betting line when it comes to NFL wagering. Super Bowl Odds are generally up all year long, even in the offseason. Pretty much the day after the previous year's Super Bowl is completed, oddsmakers will have next season's odds out. And then they stay up. Even once the NFL season starts, the Super Bowl Futures remain up, though they will likely change significantly depending on how teams fare during the season. Super Bowl Futures are not the only type of futures wager though, as NFC, AFC, and division odds are often formed in the offseason as well.
Live Betting - Through the technology now available at online sportsbooks, live betting is available in many sports. One of those of course is the NFL and all the games on the NFL regular season schedule. Live Betting usually has it's own section in an online sportsbooks, where it will list what games are available to be wagered on. There are a variety of different lines available for NFL, whether it be alternate point spreads, over under totals, and props. A player can place bets, or wait for the next ones. Live Betting is definitely a cool feature to check out.
Best USA Sportsbooks For Betting On NFL Games
Of course, because the NFL is so large within the U.S., you are going to need sportsbooks that accept USA bettors. We have a few listed below here but you want to be sure in case you are thinking about joining a betting site that we don't have listed here. Keep in mind, these are the sportsbooks we wager with and that have built our trust. Only when a sportsbook is good enough for us is when we'll recommend it to our readers.
Bovada - Live Betting On All Thursday, Sunday, & Monday Night NFL Games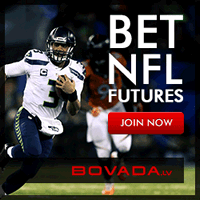 It doesn't get much better when it comes to NFL betting than when you bet at Bovada. Formerly Bodog, Bovada is one of the foremost authorities in online sports betting, and have some of the best NFL betting lines available. Place a wager on their year-round Super Bowl Futures, or check out all of the game lines and prop bets during the season.
Bovada has the NFL betting scene covered. They offer a number of USA friendly deposit methods as well, making it easy for U.S players to fund their account, and begin betting right away.
BetOnline - Odds For Select Regular Season Games Available Months Before

BetOnline is another one of the top NFL betting sites around. They offer a great selection of betting odds for the NFL, along with some great welcome bonuses and bonuses for their current players. USA friendly deposit methods are also one of the great features at this online sportsbook. If you are considering wagering on the NFL, then BetOnline is certainly a site that a USA player should check out.
More Recommended NFL Sportsbooks

Site
Bonus
Accepts Bettors From
Age
Bet Now
Bovada
20% to $100
All But NY, MD, LA, UT
18
To Bovada
BetOnline
25% to $900
All 50 U.S. States
18
To BetOnline
5Dimes
50% to $200
All 50 U.S. States
18
To 5Dimes
WagerWeb
200% to $1,000
All 50 U.S. States
18
To WagerWeb
Resources To Help You Make Better Bets
When it comes to betting sports online, going in with information and options is key. And that is one of the goals we have. There are plenty of NFL betting resources to look at and review when wagering on the NFL, which we detail below.
NFL Betting Trends - These could be your best friend throughout the course of the season. And the best part is, all you have to do is look them up, the work is done for you! Oddsmakers identify hot and cold trends for teams and match ups during the year, which can definitely aid in a smart wager, giving you an advantage and not going in blind. Take advantage of these betting trends offered.
ATS Standings - Not only fun to look at, but very useful when you are betting simply because you don't just want to know about wins and losses straight up, you want to know how teams have fared against the spread. That's why there are ATS standings to review which details how teams have fared throughout the course of the year against the spreads that oddsmakers have issued for their games. This feature, like betting trends. are definitely tools at your disposal which can help.
Match Up Analysis - For NFL betting, our matchup info takes into account a number of aspects. These stats look at all the games for the week, and put them head to head for easier comparison. How they have fared against the spread, hot trends, cold trends, matchup history against this particular team, and more are all taken into consideration. You won't want to bet on an NFL game without first consulting these NFL matchups.