Other Schedules: Thursday Night Football - Sunday Night Football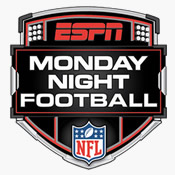 The best cure for a case of the Mondays, and mind you we hate to use that tired cliche, is none other than football. For 16 weeks out of the year, Monday is significantly less lame because of Monday Night Football. For the 2015 NFL regular season schedule there are 17 games spread across 16 weeks to help ease the pain of the start of another work week.
The 2015 slate of Monday Night Football will be full of marquee match ups from around the league and we've taken the liberty to highlight just those games each week below:
Monday Night Football Schedule For 2015
* all games on ESPN
Monday Night Football Betting Odds
Looking for MNF betting lines? Look no further as Bovada's current NFL betting odds are shown just below. Our widget is set to show odds for all games which includes Monday Night Football and all other games for the current week.
Bovada usually has no other NFL lines on the board by the time Monday rolls around so it is like that only game lines for MNF will display on Monday but know that there are props + other ways to wager on 2015 Monday Night Football games!
Monday Night Football Matchups