Jump To: Chicago Bears Team Info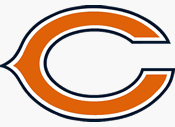 After narrowly missing the playoffs in 2013 (8-8) the Chicago Bears are looking to get back to business and build upon the offensive success brought by Head Coach Marc Trestman who now enters his 2nd season with the team.
The Bears' NFL schedule for 2015 could lend them a hand as the cross conference matchup pairs them with the AFC East which looks to be full of average teams...even the New England Patriots (Week 8) are beginning to look pedestrian. The bad news for the Bears (no pun intended) is that they also have the NFC South on deck which could present problems when Chicago goes on the road in consecutive weeks to Carolina and Atlanta which should be two of that division's best. Check the division standings here.
As proof of their tough road can be found in the fact that Chicago will be featured five times during prime time; at San Francisco in Week 2 (SNF), at New York Jets in Week 3 (MNF), at Green Bay in Week 10 (SNF), at home versus Dallas in Week 14 (TNF), and versus New Orleans at home in Week 15 (MNF). Further, the 2015 Chicago Bears schedule takes them to Detroit on Thanksgiving (November 27th) for an early 12:30pm ET kickoff with the Lions.
2015 Bears Preseason Schedule
1 Thu, Aug 13 vsMiami 8:00 PM
2 Sat, Aug 22 @Indianapolis 7:30 PM
3 Sat, Aug 29 @Cincinnati 7:30 PM
4 Thu, Sep 3 vsCleveland 8:00 PM
2015 Bears Regular Season Schedule
WK DATE OPPONENT TIME (ET)

1 Sun, Sep 13 vsGreen Bay 1:00 PM FOX
2 Sun, Sep 20 vsArizona 1:00 PM FOX
3 Sun, Sep 27 @Seattle 4:25 PM CBS
4 Sun, Oct 4 vsOakland 1:00 PM CBS
5 Sun, Oct 11 @Kansas City 1:00 PM FOX
6 Sun, Oct 18 @Detroit 1:00 PM FOX
7 BYE WEEK
8 Sun, Nov 1 vsMinnesota 1:00 PM FOX
9 Mon, Nov 9 @San Diego 8:30 PM ESPN/WatchESPN
10 Sun, Nov 15 @St. Louis 1:00 PM FOX
11 Sun, Nov 22 vsDenver 1:00 PM CBS
12 Thu, Nov 26 @Green Bay 8:30 PM NBC
13 Sun, Dec 6 vsSan Francisco 1:00 PM FOX
14 Sun, Dec 13 vsWashington 1:00 PM FOX
15 Sun, Dec 20 @Minnesota 1:00 PM FOX
16 Sun, Dec 27 @Tampa Bay 1:00 PM FOX
17 Sun, Jan 3 vsDetroit 1:00 PM FOX