Jump To: Atlanta Falcons Team Info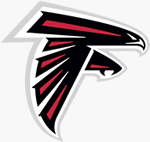 The Atlanta Falcons are looking to bounce back in 2015 after a complete letdown in 2013. But things are never easy in the NFC South and Mike Smith + staff are going to have their work cut out coaching their wealth of talent past rival teams like Carolina and New Orleans. It's not going to be easy coming out of the gate as the Falcons' 2015 NFL schedule pits them versus the New Orleans Saints + Cincinnati Bengals in the first two weeks, but the strength of schedule should immediately begin to balance out as the season progresses.
The Falcons will be featured in prime time twice this year, once on Thursday Night Football vs. the Bucs in Week 3 and another game at Lambeau Field versus the Packers on Monday Night Football in Week 14. Also note that the Falcons will play a game in London in Week 10 however you will need to be up early because it starts at 9:30am ET, 2:30pm local.
The entire 2015 schedule for the Atlanta Falcons is listed out below complete with dates, kickoff times and information so that fans + fantasy football fans can follow their games on TV.
Atlanta Falcons 2015 Preseason Schedule
08/14/2015 vs Tennessee
08/21/2015 at NY Jets
08/29/2015 at Miami
09/03/2015 vs Baltimore
Atlanta Falcons 2015 Regular Season Schedul
09/14/2015 vs Philadelphia
09/20/2015 at NY Giants
09/27/2015 at Dallas
10/04/2015 vs Houston
10/11/2015 vs Washington
10/15/2015 at New Orleans
10/25/2015 at Tennessee
11/01/2015 vs Tampa Bay
11/08/2015 at San Francisco
11/22/2015 vs Indianapolis
11/29/2015 vs Minnesota
12/06/2015 at Tampa Bay
12/13/2015 at Carolina
12/20/2015 at Jacksonville
12/27/2015 vs Carolina
01/03/2016 vs New Orleans
2015 Atlanta Falcons Team Info