Jump To: Cincinnati Bengals Team Info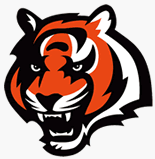 Winning the AFC North in 2013 (11-5) was definitely an accomplishment for Marvin Lewis' Cincinnati Bengals but now the time has come to start judging success by wins in the playoffs which is something that has eluded them for the past three seasons. The Bengals 2015 schedule will be full of peaks and valleys as the quality of the opponent will fluctuate week to week but the toughest stretch will come following the Week 4 bye when the Bengals face the Patriots, Panthers and Colts in consecutive weeks.
Following this section is the Cincinnati Bengals 2015-2015 NFL season schedule. Some of the times and dates are subject to change a little with the flexible scheduling, but all of the Bengals 2015 opponents will remain the same. This schedule page includes TV channels and kickoff times for all 2015 Cincinnati Bengals games. Count on the Bengals playing three or more night games this year as they are set to take the full tour including TNF, SNF and Monday Night Football games.
BENGALS 2015 SCHEDULE

Day

Date

Opponent

Time

Location

PRESEASON

Fri.

Aug. 14

N.Y. GIANTS


7:30 p.m.

Paul Brown Stadium


Mon.

Aug. 24

at Tampa Bay


8 p.m.

Raymond James Stadium


Sat.

Aug. 29

CHICAGO

7:30 p.m.

Paul Brown Stadium

Thu.

Sept. 3

at Indianapolis


7 p.m.

Lucas Oil Stadium


REGULAR SEASON

Sun.

9/13

at Oakland

4:25 p.m.

Alameda County Coliseum

Sun.

9/20

SAN DIEGO

1 p.m.

Paul Brown Stadium

Sun.

9/27

at Baltimore

1 p.m.

M&T Bank Stadium

Sun.

10/4

KANSAS CITY

1 p.m.
Paul Brown Stadium

Sun.

10/11

SEATTLE

1 p.m.

Paul Brown Stadium

Sun.

10/18

at Buffalo

1 p.m.

Ralph Wilson Stadium

--BYE--

Sun.

11/1

at Pittsburgh

1 p.m.

Heinz Field

Thu.

11/5

CLEVELAND

8:25 p.m. (NFLNetwork)

Paul Brown Stadium
Mon.

11/16

HOUSTON

8:30 p.m. (ESPN)

Paul Brown Stadium

Sun.

11/22

at Arizona

4:25 p.m.

University of Phoenix Stadium

Sun.

11/29

ST. LOUIS

1 p.m.

Paul Brown Stadium

Sun.

12/6

at Cleveland

1 p.m.

FirstEnergy Stadium

Sun.

12/13

PITTSBURGH

1 p.m.

Paul Brown Stadium

Sun.

12/20

at San Francisco

8:30 p.m. (NBC)

Levi's Stadium

Mon

12/28

at Denver

8:30 p.m. (ESPN)

Sports Authority Field at Mile High

Sun.

12/28

BALTIMORE

1 p.m.

Paul Brown Stadium
Preseason Schedule For Cincinnati Bengals
2015 Cincinnati Bengals Team Info