Jump To: Buffalo Bills Team Info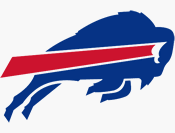 The Buffalo Bills will be tested several times with the schedule they were handed for the 2015 NFL season. As luck would have it the AFC East will match up with the NFC North and the AFC West which means games with at least 4 of the top-10 preseason favorites to win Super Bowl because they will automatically play New England twice. The Dolphins seem to be on the rise again as well and Buffalo is going to have to take this division if they want it...the AFC East will not be handed to them.
Unless one of their games are flexed into the Sunday Night Football schedule the Buffalo Bills will only make one primetime appearance; Week 11 in Miami versus the Dolphins on Thursday Night Football. The rest of the Buffalo Bills 2015 schedule can be seen just below along with the preseason schedule too!
2015 Bills Preseason Schedule
1 Fri, Aug 14 vsCarolina 7:00 PM
2 Thu, Aug 20 @Cleveland 8:00 PM ESPN/WatchESPN
3 Sat, Aug 29 vsPittsburgh 4:00 PM NFL
4 Thu, Sep 3 @Detroit 7:30 PM
2015 Bills Regular Season Schedule
WK DATE OPPONENT TIME (ET)

1 Sun, Sep 13 vsIndianapolis 1:00 PM CBS
2 Sun, Sep 20 vsNew England 1:00 PM CBS
3 Sun, Sep 27 @Miami 4:25 PM CBS
4 Sun, Oct 4 vsNew York 1:00 PM FOX
5 Sun, Oct 11 @Tennessee 1:00 PM CBS
6 Sun, Oct 18 vsCincinnati 1:00 PM CBS
7 Sun, Oct 25 @Jacksonville 9:30 AM Yahoo
8 BYE WEEK
9 Sun, Nov 8 vsMiami 1:00 PM CBS
10 Thu, Nov 12 @New York 8:25 PM NFL
11 Mon, Nov 23 @New England 8:30 PM ESPN/WatchESPN
12 Sun, Nov 29 @Kansas City 1:00 PM CBS
13 Sun, Dec 6 vsHouston 1:00 PM CBS
14 Sun, Dec 13 @Philadelphia 1:00 PM CBS
15 Sun, Dec 20 @Washington 1:00 PM CBS
16 Sun, Dec 27 vsDallas 1:00 PM FOX
17 Sun, Jan 3 vsNew York 1:00 PM CBS