Other Schedules: Monday Night Football - Sunday Night Football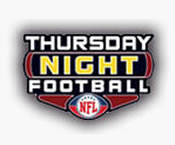 Thursday Night Football will take on an entirely new look for the 2015 NFL season with CBS joining in on the action with the NFL Network to simulcast all Thursday night games this season up through Week 8 minus the Kickoff game (Green Bay vs. Seattle). CBS will kick up the broadcast quite a bit by adding Jim Nantz to the call + will feature their own pregame show starting at 7:30pm ET leading up to the 8:25pm ET kickoff.
The quality of the 2015 schedule has also benefited by this partnership as Thursday Night Football is no longer the chance for the lesser teams to get their time in the spotlight with a primetime game. In fact, all but two of the Thursday night games will be division matchups; check out the entire lineup below:
Thursday Night Football Schedule For 2015
* Game On NBC
Thursday Night Football Betting Odds
Bookmakers will typically release the betting odds for Thursday Night Football games earlier than usual to allow potential bettors plenty of time to weight each side of the wager + place their bets. Look below as Bovada has provided a widget that will allow us to show weekly NFL odds which always lead off with the game lines + prop wagers for the Thursday Night Football matchup.
Thursday Night Football Matchups