Jump To: Baltimore Ravens Team Info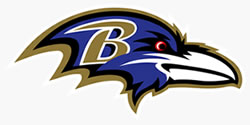 The Ravens 2015 season schedule is definitely not going to be easy facing the likes of the AFC North and the NFC South however they will catch a break with the AFC South minus perhaps the Indianapolis Colts. The finishing stretch is very favorable and should help the Ravens at least clinch a wildcard berth in the AFC Playoffs unless things go terribly wrong for John Harbaugh's squad.
Baltimore is going to be in the national spotlight three times on this year's NFL schedule which includes primetime games on Thursday (vs. Pittsburgh, wk. 2), Sunday (at Pittsburgh, wk. 9) and on the 2015 Monday Night Football schedule (at New Orleans, wk. 12). Check out the entire list of Ravens games below where each week's opponent is highlighted along with information about the game including TV channel + kickoff times.
2015 Ravens Preseason Schedule
1 Thu, Aug 13 vsNew Orleans 7:30 PM
2 Sat, Aug 22 @Philadelphia 7:00 PM NFL
3 Sat, Aug 29 vsWashington 7:30 PM
4 Thu, Sep 3 @Atlanta 7:00 PM
2015 Ravens Regular Season Schedule
WK DATE OPPONENT TIME (ET)

1 Sun, Sep 13 @Denver 4:25 PM CBS
2 Sun, Sep 20 @Oakland 4:05 PM CBS
3 Sun, Sep 27 vsCincinnati 1:00 PM CBS
4 Thu, Oct 1 @Pittsburgh 8:25 PM CBS/NFL
5 Sun, Oct 11 vsCleveland 1:00 PM CBS
6 Sun, Oct 18 @San Francisco 4:25 PM CBS
7 Mon, Oct 26 @Arizona 8:30 PM ESPN/WatchESPN
8 Sun, Nov 1 vsSan Diego 1:00 PM CBS
9 BYE WEEK
10 Sun, Nov 15 vsJacksonville 1:00 PM CBS
11 Sun, Nov 22 vsSt. Louis 1:00 PM FOX
12 Mon, Nov 30 @Cleveland 8:30 PM ESPN/WatchESPN
13 Sun, Dec 6 @Miami 1:00 PM CBS
14 Sun, Dec 13 vsSeattle 8:30 PM NBC
15 Sun, Dec 20 vsKansas City 1:00 PM CBS
16 Sun, Dec 27 vsPittsburgh 8:30 PM NBC
17 Sun, Jan 3 @Cincinnati 1:00 PM CBS
2015 Baltimore Ravens Team Info