Jump To: Arizona Cardinals Team Info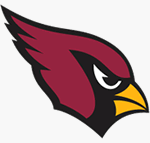 The Arizona Cardinals 2015 schedule might just be one of the toughest heading into the 2015 NFL regular season schedule. After a 10-6 record + narrowly missing the playoffs in 2013, the Cardinals schedule would have been a tough test with just the NFC West but being matched up with the AFC West means playing teams like the Denver Broncos, Kansas City Chiefs, and San Diego Chargers. Not only that but the division will also go against entire NFC East which means two long trips from the desert all the way out to the East Coast.
The entire preseason + 2015 regular season schedule for the Arizona Cardinals can be seen just below with dates, kickoff times + even information about which network will be carrying coverage of the games but check your local listings to see which games will be shown in your region.
2015 Cardinals Preseason Schedule
1 Aug 15 6:00PM MST Chiefs
2 Aug 22 7:00PM MST Chargers
3 Aug 30 5:00PM MST ' AT Raiders
4 Sep 3 6:00PM MST AT Broncos
2015 Cardinals Regular Season Schedule
1 Sep 13 1:05PM MST ) Saints
2 Sep 20 10:00AM MST ) AT Bears
3 Sep 27 1:05PM MST ) 49ers
4 Oct 4 1:25PM MST ) Rams
5 Oct 11 1:05PM MST ) AT Lions
6 Oct 18 10:00AM MST ) AT Steelers
7 Oct 26 5:30PM MST + Ravens
8 Nov 1 11:00AM MST ) AT Browns
10 Nov 15 6:30PM MST ' AT Seahawks
11 Nov 22 2:05PM MST * Bengals
12 Nov 29 2:05PM MST ) AT 49ers
13 Dec 6 11:00AM MST ) AT Rams
14 Dec 10 6:25PM MST , Vikings
15 Dec 20 11:00AM MST ) AT Eagles
16 Dec 27 2:25PM MST ) Packers
17 Jan 3 2:25PM MST ) Seahawks
2015 Arizona Cardinals Team Info