Welcome to NFLSeasonSchedules.com, your new home to track your favorite teams and betting favorites each and every week. Here, you are going to find a complete NFL season schedule break down for all 32 teams, as well as all 17 weeks of the NFL regular season. Additionally, we have complete preseason and postseason coverage from the Hall of Fame Game to the Super Bowl.
The goal behind our website is to make everything fast to find and easy to read. Each team's NFL season schedule you'll read on our site will consist of info like TV coverage, odds (once available), times, conference schedules, and more. If you are simply looking for your team NFL schedule, this is the place to find it. Stick with us and never miss another NFL game you want to see!

What's On Tap: 2014 NFL Draft + Schedule Release
As the calendar turns to April we're just over 5 weeks away from the 2014 NFL Draft to be held at Radio City Music Hall in New York City. Normally a fixture of April, the draft will be held in May for the first time ever. Scheduled for May 8th through May 10th due to a scheduling conflict with the venue in its normal slot, the NFL has considered permanently moving the draft to early-mid May.
With that being said about the NFL Draft, it also appears that the release of the 2014 NFL regular season schedule is going to be pushed back this year. Howard Katz, senior vice-president of broadcasting and media operations, has stated "(the goal is) the third week or so of April," but he also expressed to Brad Biggs of the Chicago Tribune that he has uncertainty surrounding that timeline. We'll be sure to keep our ear to the ground and our eyes open for any further developments in this story... after all, we shouldn't be NFLSeasonSchedules if we didn't try to pay close attention to the situation.
Until then, please keep yourself entertained with the latest release of the odds to win Super Bowl 49. Glendale is a long-ways off from now but there is never a bad time to place a wager on the Super Bowl winner. Note, these odds have jumped around drastically since the start of free agency and probably will not settle down until after the two main upcoming events.
Here are some important dates for the 2014 NFL schedule:
May 8th - 10th, 2014 -

NFL Draft

September 4th, 2014 -

NFL Kickoff Game

- Seattle Seahawks (at/vs) TBD
September 7th, 2014 -

First Sunday of 2014 NFL Regular Season

Sept. 28th, 2014 -

Miami Dolphins vs. Oakland Raiders

- London Series
October 26th, 2014 -

Detroit Lions vs. Atlanta Falcons

- London Series
Nov. 9th, 2014 -

Dallas Cowboys vs. Jacksonville Jaguars

- London Series
November 27th, 2014 -

Thanksgiving Day

December 25th, 2014 -

Christmas Day

December 28th, 2014 -

Last Day of 2014 Regular Season

January 18th, 2015 -

Championship Sunday

February 1st, 2015 -

Super Bowl XLIX

- Glendale, Arizona
February 2nd, 2015 -

Super Bowl L (50) Betting Odds Release
Sunday Night Football Schedule For 2014

Sunday Night Football in the NFL has become a marquee event in the NFL over the last several seasons, pairing one of the biggest matchups each week during the season. Here at NFLSeasonSchedules.com, we have the complete 2014 Sunday Night Football schedule with everything you would want to know about the upcoming games. Late in the year, the NFL gets the opportunity to use their flex option, from Week 12 on these games are subject to change. We will obviously be all over this is that option is exercised. Sunday Night Football is quickly becoming one of the most popular aspects of the NFL, and we want to make sure that you are fully aware of every match up on the 2014 NFL Schedule. See the Sunday Night Football Schedule For 2014 here
Monday Night Football Schedule For 2014

Are you ready for some football? We sure are ready for some NFL action on Monday Night, with the 2014 Monday Night Football schedule looking really good this year. We have all of the Monday Night Football match ups for the 2014 NFL Season so you can know which teams will be set on the national stage each week during the season. Monday Night Football is one of the great things about the NFL Season, giving us all something to look forward to after starting the work week. Get the betting odds, and all the other information for the 2014 Monday Night Football schedule here with us.
NFL Thursday Night Football Schedule For 2014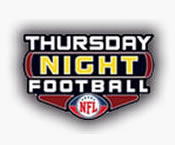 Thursday Night Football in the NFL has come on strong of late, as one of the new concepts for the league. And the 2014 Thursday Night Football schedule is the most extensive yet; games start in Week 2 of the 2014 season. That's more football on more days right away! And we will have the entire Thursday Night Season Schedule for 2014 here, complete with dates/times of the games and matchups. These games will air on the NFL Network. We will also have the betting odds and all other info surrounding these Thursday games every week. See the full Thursday Night NFL Football Schedule here.
Thanksgiving Day NFL Schedule For 2014
One of the great traditions in the NFL is that of Thanksgiving football. Turkey and football go hand in hand with each other every season, and we have the complete breakdown for the entire 2014 Thanksgiving Day NFL schedule this season. Get the matchups, times, and TV coverage for each of the NFL games scheduled on Thanksgiving Day, as a variety of networks get in on the action. We will also have the betting odds for the games when they come out, and any other important information for the match ups leading up to kickoff. So if you're trying to figure out when the best time is for you to slice the turkey and not miss a minute of action, this is your page.
Team By Team NFL Season Schedule
Get the full schedules for all 32 teams in the NFL here. The 2014 team schedules are listed to go along with dates, times, TV coverage, and the betting odds for every one of the match ups throughout the course of the season. Find out who your favorite team is playing, where they are playing, when, and whether or not they are the favorites or the underdogs. All of the NFL Team scheduling information is available on each team's individual page, ensuring complete coverage for all of the 2014 NFL Season. Simply click on the name of whichever team you desire and you will be brought to that team's page, with everything you would want to know about their NFL season schedule.
NFL Weekly Schedules
Get the full list of schedules for all of the teams each week on our NFL Weekly Schedules pages. Whether you are interested in the opening week, or all the way to Week 17, our NFL Weekly schedule pages have the complete listing of every game on the slate. Get the match ups, dates, times, TV coverage, betting odds and more on each one of these pages. Simply click on the desired week, and you will be brought to the schedule for that week, along with much more information. Check out all of our Weekly NFL schedules for the 2014 NFL Season and find out who plays who.
Betting Games On The NFL Season Schedule
Like it or not, betting is a big part of professional football. Whether it be through weekly office pools, fantasy football, or straight up wagering at online sportsbooks, it can all be considered gambling. The popularity is gambling is why you will hear shows on ESPN mention the NFL betting odds for the games.
Below, we have a few questions and answers we've created to help you understand why NFL wagering is such a big deal. Furthermore, advantages to betting online versus at a real deal sportsbook will also be given.
Why do people wager on NFL games?
Simply put, there is a lot of money to be made just by picking the winner of the games each week. Furthermore, there is more money to be made by picking the winner of the game as it relates to the handicapped betting spread. Additionally, wagering on a game is a chance to put your money where your mouth is. If you fancy yourself as a prognosticator, and truly know in your heart that you are good at it, then why not make some extra money wagering on the games you love to watch each week.
Where do people wager on NFL games?
There are a variety of options available for wagering. Some opt for a seedy local bookie, even fewer actually place their bets with sportsbooks in Nevada & Delaware but most NFL bettors tend to wager online. Like most, we also prefer to wager online and when we do, we stick to online sports betting sites we trust the most with our own money. Included in that group are sportsbooks of the likes of Bodog, Intertops, and BetOnline to a lesser degree. Using multiple sportsbooks gives bettors the opportunity to shop betting lines and get better odds of winning their wager.
Are there advantages to betting online rather than in person?
You betcha! There are a lot more options available for savvy sports bettors who know how the different, more exotic betting types work, betting types that you will not find in a traditional Las Vegas sportsbook. Additionally, convenience is a huge factor. You can literally place bets in your underwear if you so choose. Whether you're in the recliner or just took your seat at the stadium, bettors can wager from anywhere usually up to just minutes before kickoff.
How can I start wagering games on the NFL season schedule?
We though you'd never ask! ;) This is a very simple process. If you missed them before, we recommend Bovada, Intertops, as well as BetOnline simply because these are the books we frequent the most and they all accept new accounts from all bettors that live in the United States. Find the one that sounds best to you (we recommend Bovada above all) and click the banner or link. This will take you to the sign up page where you can create a new account.
In general, all sports betting sites require you to give your name, address, phone number, email, date of birth. And, for the most part, you will have to establish your user ID, set and confirm your password for yourself. Depending on which book you join, you may need to verify your account through email validation. Once all this is set, simply proceed to the cashier and deposit. Know that all sportsbooks accept credit cards however not all credit cards are accepted. There is nothing you can do about this. If you card isn't working then most likely your bank has blocked transactions with the sportsbook's payment processor. In this case, you will need to explore alternative methods such as checks, wire transfers, or ewallets. Ewallets are simply non-gambling intermediaries that accept credit cards which can process your deposit and then send funds to your sports betting account. This generally just involves signing up for another account. On the whole, the process is very easy, even if you have never gambled online before.
Best Books For Wagering Games On The NFL Schedule
Below we give to you our list of trusted sports betting sites for NFL games. As previously mentioned, we rely upon these books for our own wagering needs.
50 % to $250 Matching NFL Bonus
Takes VISA, Western Union + MoneyGram
Posts Most Games Lines On Mondays