Other Schedules: Thursday Night Football - Monday Night Football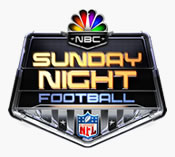 Sunday Night Football is often billed as the 'Game of the Week' and the 2014 NFL schedule lives up to that reputation with what should be an awesome lineup of games - 16 games in total. Chris Colinsworth + Al Michaels will be back for their 5th season together, Michaels' 9th season on the program.
The 2014 Sunday Night Football schedule is laid out below and only includes games played on Sunday night; games covered by the Sunday Night Football crew on Thanksgiving or other special occasions have been excluded. Do know that flex scheduling begins as early as Week 5 this year so the matchups could change but we'll do our best to keep this page up to date including when the Week 17 matchup is announced.
Sunday Night Football Schedule For 2014
WK
Date
Time
Away
Home
1
September 7th
8:25pm ET
Indianapolis Colts @ Denver Broncos
2
September 14th
8:25pm ET
Chicago Bears @ San Francisco 49ers
3
September 21st
8:25pm ET
Pittsburgh Steelers @ Carolina Panthers
4
September 28th
8:25pm ET
New Orleans Saints @ Dallas Cowboys
5
October 5th
8:25pm ET
Cincinnati Bengals @ New England Patriots
6
October 12th
8:25pm ET
New York Giants @ Philadelphia Eagles
7
October 19th
8:25pm ET
San Francisco 49ers @ Denver Broncos
8
October 26th
8:25pm ET
Green Bay Packers @ New Orleans Saints
9
November 2nd
8:25pm ET
Baltimore Ravens @ Pittsburgh Steelers
10
November 9th
8:25pm ET
Chicago Bears @ Green Bay Packers
11
November 16th
8:25pm ET
New England Patriots @ Indianapolis Colts
12
November 23rd
8:25pm ET
Dallas Cowboys @ New York Giants
13
November 30th
8:25pm ET
Denver Broncos @ Kansas City Chiefs
14
December 7th
8:25pm ET
New England Patriots @ San Diego Chargers
15
December 14th
8:25pm ET
Dallas Cowboys @ Philadelphia Eagles
16
December 21st
8:25pm ET
Seattle Seahawks @ Arizona Cardinals
17
December 28th
8:25pm ET
TBD
Sunday Night Football Betting Odds
Betting on Sunday Night Football games is extremely popular because most are trying to put the cherry on top of the week's betting with a win on Sunday night. Game lines for Sunday Night Football are available each week from the leading NFL sportsbooks which includes Bovada's online sportsbook. Thanks to Bovada we are able to provide live Sunday Night Football odds each week - weekly SNF game lines will display below when available.
Sunday Night Football Matchups