Jump To: Baltimore Ravens Team Info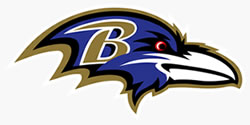 The Ravens 2015 season schedule is definitely not going to be easy facing the likes of the AFC North and the NFC South however they will catch a break with the AFC South minus perhaps the Indianapolis Colts. The finishing stretch is very favorable and should help the Ravens at least clinch a wildcard berth in the AFC Playoffs unless things go terribly wrong for John Harbaugh's squad.
Baltimore is going to be in the national spotlight three times on this year's NFL schedule which includes primetime games on Thursday (vs. Pittsburgh, wk. 2), Sunday (at Pittsburgh, wk. 9) and on the 2015 Monday Night Football schedule (at New Orleans, wk. 12). Check out the entire list of Ravens games below where each week's opponent is highlighted along with information about the game including TV channel + kickoff times.
WK
Date
Opponent
Time (ET)
Cable
1
Sunday, September 7th
vs. Cincinnati Bengals
1:00PM
2
Thursday, September 11th
vs. Pittsburgh Steelers
8:25PM
3
Sunday, September 21st
@ Cleveland Browns
1:00PM
4
Sunday, September 28th
vs. Carolina Panthers
1:00PM
5
Sunday, October 5th
@ Indianapolis Colts
1:00PM
6
Sunday, October 12th
@ Tampa Bay Bucs
1:00PM
7
Sunday, October 19th
vs. Atlanta Falcons
1:00PM
8
Sunday, October 26th
@ Cincinnati Bengals
1:00PM
9
Sunday, November 2nd
@ Pittsburgh Steelers
8:25PM
10
Sunday, November 9th
vs. Tennessee Titans
1:00PM
11
Bye Week
12
Monday, November 24th
@ New Orleans Saints
8:30PM
13
Sunday, November 30th
vs. San Diego Chargers
1:00PM
14
Sunday, December 7th
@ Miami Dolphins
1:00PM
15
Sunday, December 14th
vs. Jacksonville Jaguars
1:00PM
16
Sunday, December 21st
@ Houston Texans
1:00PM
17
Sunday, December 28th
vs. Cleveland Browns
1:00PM
Now over a year removed from winning Super Bowl XLVII (47) the Baltimore Ravens are looking to reclaim their spot atop the heap. There are questions surrounding the team with the dismissal of RB Ray Rice however adding veteran players like WR Steve Smith should help Joe Flacco open the field up.
Preseason Schedule For Baltimore Ravens
2015 Baltimore Ravens Team Info